MnFIRE's newest fundraiser is a walk across Minnesota to raise awareness and much-needed funds for firefighter health. Miles for MnFIRE kicked off on Sept. 12 near Marietta, on the westernmost edge of the state, and is making its way through numerous Minnesota communities, including Lac Qui Parle, Chippewa, Kandiyohi, Meeker, McLeod, Carver, Hennepin, Ramsey counties. The walk ends Sept. 18 at the Minnesota Fallen Firefighter Memorial on the grounds of the State Capitol in St. Paul.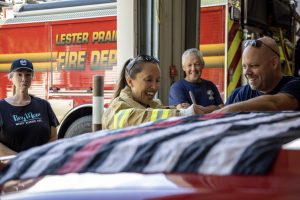 Beautiful day five of Miles for MnFIRE started off sunny and early in Lester Prairie, with several Lester Prairie firefighters joining Doug Foote on his route, as well as Chief Deputy State Fire Marshal Amanda Swenson. Doug made his way through New Germany and Mayer, ending in Waconia yesterday. Firefighters from the New Germany, Mayer and Waconia Fire Departments and community members also kept Doug company, guiding him through their respective cities.
Throughout his walk, Doug has been joined by other firefighters, their families and community members who have seen firsthand the alarming rate of heart attacks, suicide and cancer affecting Minnesota's hometown heroes.
"Today, we completed the walk into the first town of which I'm very familiar," said Doug. "I've done several triathlons in Waconia, and it was a sight for sore eyes."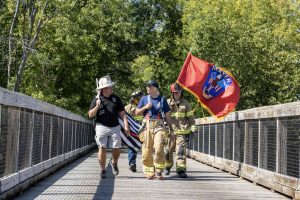 Doug's long trek from Marietta to St. Paul has so far raised more than $12,000 for MnFIRE to continue its mission of supporting Minnesota firefighter health. There's still time to make a donation HERE.
With only two days left in Doug's journey, the end is in sight!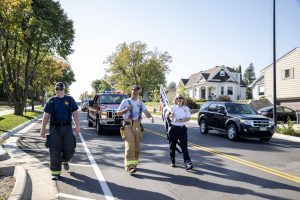 On Saturday, dozens of firefighters from across Minnesota will don their turnout gear and walk with Doug on his final mile to the Minnesota Fallen Firefighter Memorial site on the State Capitol grounds. Firefighters can meet at Saint Paul College starting at 1:45 p.m. and join Doug en route around 2:00 p.m. The group is expected to get to the State Capitol Grounds at approximately 2:30 p.m.