MnFIRE's newest fundraiser is a walk across Minnesota to raise awareness and much-needed funds for firefighter health. The multi-day event kicked off on September 12, 2021, near Marietta, on thewesternmost edge of the state, and made its way through numerous Minnesota communities, including Lac Qui Parle, Chippewa, Kandiyohi, Meeker, McLeod, Carver, Hennepin, Ramsey counties. The walk ended the following weekend at the Minnesota Fallen Firefighter Memorial on the grounds of the State Capitol in St. Paul.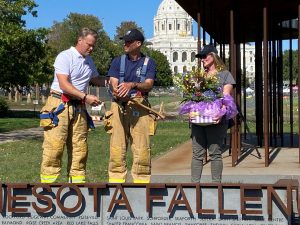 Dressed in firefighter gear, Chanhassen firefighter Doug Foote walked the entire 200-mile route, and was joined along the way by other firefighters, their families and community members to show their support for MnFIRE's important mission.
You can support Miles for MnFIRE either as a corporate sponsor or a donor. Your support will help ensure that more firefighters receive the life-saving services in three key program areas: heart health, emotional trauma, and cancer prevention and support.