We're just a few weeks away from the Firefighter Health Forum on April 22-23 at the JW Marriott Minneapolis Mall of America. This exclusive symposium will gather cardiac, cancer and mental health experts and fire service leaders from across the country to share the latest information, in-depth research and techniques related to firefighter health.
There are four distinct tracks available, each specifically designed for Minnesota fire service leaders, medical providers, mental health providers and peer supporters. The complete event schedule has been announced – view it here.
Medical and mental health providers can earn up to 6.0 CME credits for attending important sessions about the biggest health concerns in firefighting, the psyche of firefighters, how to keep firefighters engaged in the treatment process, what types of screenings are appropriate for firefighters and more. After all, it's crucial that our mental health and primary care providers have the knowledge, skills and tools to treat the unique concerns of Minnesota's 20,000 firefighters.
Fire service leaders and peer supporters will learn about how to access new Hometown Heroes Assistance Program (HHAP) resources, helping fellow firefighters and their families through personal and professional challenges, implementing well-being strategies and more. The peer supporter track is offered at no cost and participation supports MnFIRE's peer supporter ongoing education.
We're excited to announce Dr. David Griffin as our keynote speaker!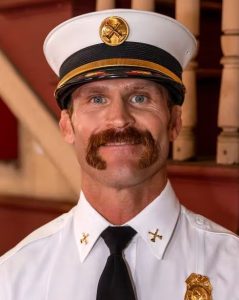 Dr. Griffin was the driver of the first engine to respond to the disastrous 2007 Charleston Sofa Super Store fire that claimed the lives of nine of his fellow firefighters. Since then, he has become a dynamic motivational speaker and has dedicated his life to spreading his knowledge of organizational learning and leadership.
Other event speakers include Dr. Melinda Coscarelli, medical director of the MnFIRE Assistance Program Provider Network, Dr. Margaret Gavian, medical director of MnFIRE Peer Support, Dr. Zeke McKinney, HealthPartners occupational & environmental medicine specialist, and more. All of these experts have worked directly with Minnesota first responders on complex mental and physical health issues related to their time on the job, from cancer and cardiac disease to PTSD. Learn more about our event speakers here.
Register today for 25% off
There's still time to register for this exclusive educational and networking symposium dedicated to firefighter health. Sign up now through April 1 for 25% off registration – use discount code "FHF25" at checkout. Click here to register. We'll see you there!