Thank you to everyone who joined us for two days of educational and inspiring firefighter health conversations at the Firefighter Health Forum! This inaugural symposium gathered medical and mental health experts and fire service leaders from across the state. We're so thankful to all who attended for sharing their stories and engaging with our speakers.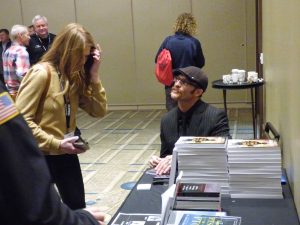 Dr. David Griffin, assistant chief of administration in Charleston, South Carolina, kicked off the event with his keynote speech, "Wake Up!" Dr. Griffin was the operator of the first due engine on June 18, 2007, when nine of his fellow firefighters perished in the disastrous Charleston Sofa Super Store fire. In his presentation, he shared his personal account of that day and the aftermath of coping without any formal mental health supports in place. This incident was the catalyst for a lot of organizational changes in the fire service across the country, but that didn't happen overnight.
Dr. Griffin's experience serves as a powerful reminder that when your mind is injured, you need to treat it as seriously and carefully as any physical injury to get better and get back to your work and life. He spoke about how we all need to "wake up" to make real cultural change in the fire service around supporting both mental and physical health to do our jobs safely and effectively. Firefighting is a job that will affect you for the rest of your life, and to change a culture, the hearts and minds of the members must be affected – from the bottom to the top.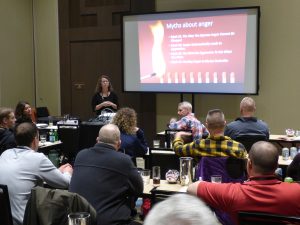 In breakout sessions, we tackled important subjects for mental health providers supporting their firefighter clients – like the biggest health concerns in firefighting, the psyche of firefighters, how to keep firefighters engaged in the treatment process, what types of screenings are appropriate for firefighters and more. Fire service leaders and peer supporters learned about how to access new Hometown Heroes Assistance Program (HHAP) resources, helping fellow firefighters and their families through personal and professional challenges, implementing well-being strategies in their departments and more.
These sessions taught us that we can make a lasting impact on fellow firefighters and firefighter patients, supporting them so they can do their jobs safely, continue to help their communities and come home to their families at the end of the day.
At the event banquet, Gov. Tim Walz shared a video message with the fire service leaders, firefighters, peer supporters and mental health professionals in attendance about his support for the Hometown Heroes Assistance Program. "We must do everything we can to make sure our firefighters are healthy and safe in their workplaces, and that they have what they need to heal and live long lives," Walz said.
Thanks to everyone who made the Firefighter Health Forum come to life, including Dr. David Griffin, Dr. Melinda Coscarelli, Dr. Margaret Gavian, Dr. Zeke McKinney, Tammy Huf, Dean Salita and Mary Beth Boyce from Schmidt & Salita Law Team, Rochelle Hawthorne, Joe Meuwissen, Chief Mike Dobesh, Chief Andrew Heger and Deputy Chief Jeremie Baker.
As firefighters, we're in training mode for life, so thank you to all who attended for taking the time to learn more about protecting and supporting the health and well-being of firefighters. We hope to see you next year!