Thanks to a grant from the Fire Service Advisory Committee (FSAC), MnFIRE awareness training and cardiac, emotional wellness and cancer deep dive sessions are being offered both online and in-person at no cost to Minnesota fire departments through June 30, 2021. Nick Ferraro at the Pioneer Press recently wrote about the boosted efforts to educate firefighters on their mental and physical health. Read the full article here.
Taught by fellow firefighters and other health experts, these trainings teach firefighters how to protect themselves from the three problems most commonly experienced by those in the fire service: cardiac, emotional trauma and cancer. Firefighters are at a greater risk of cancer due to smoke and hazardous chemicals they are exposed to in their work, and firefighters and paramedics are twice as likely as the general public to experience PTSD, according to the International Association of Fire Fighters. In Minnesota, four to six active firefighters die from suicide each year.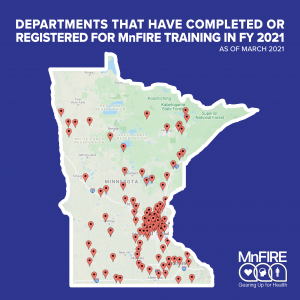 "When you are a firefighter, we know there's a moral imperative to your job," said Wayne Kewitsch, MnFIRE executive director. "We know it's dangerous and we know we're going to be put in life or death situations. But we need to be able to give our firefighters the tools and knowledge to mitigate those dangers as much as we possibly can so that they continue to do their job and that they can be healthy, safe and have a nice long life."
More and more Minnesota firefighters are tragically losing their lives due to occupational health issues. Take advantage of this free MnFIRE training to help your department become more aware of their increased health risks – before it's too late.