MnFIRE recently launched the MnStore – an online store where those interested in supporting our mission can buy MnFIRE-branded merchandise, like t-shirts, hats and sweatshirts. Support our mission of helping Minnesota firefighters prioritize and protect their health, and add some great looking pieces to your wardrobe in return! These also make great gifts for the firefighters in your life. Here are a few of our favorite items: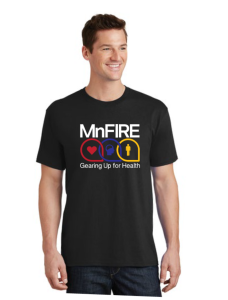 1) MnFIRE Torrent Waterproof Jacket – Our versatile, fully seam-sealed jacket offers outstanding waterproof protection to keep you dry whether you're on the job or on the trail. Folds into a convenient carry pouch for easy, compact storage.
2) MnFIRE Hat – This stylish and classic trucker hat will protect your eyes, while also spreading awareness about MnFIRE.
3) MnFIRE Endeavor 1/4 Zip Pullover – With a subtle heather texture and moisture-wicking technology, this lightweight 1/4-zip will help you achieve all your performance endeavors.
4) MnFIRE Core Cotton Tee Shirt – Show your support wherever you go with a comfy cotton t-shirt sporting our MnFIRE branding.
Check out all the full line-up of MnFIRE apparel options at our MnStore. Thanks for supporting our mission!