Several people from the MnFIRE team volunteered at this year's Minnesota Fallen Firefighter Memorial Service on Sunday, where hundreds gathered on the State Capitol grounds to remember our brothers and sisters in the fire service who have paid the ultimate price.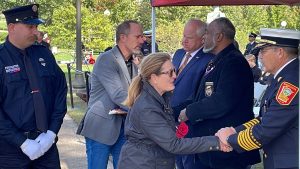 For 11 years, the event – coordinated by the Minnesota Fire Service Foundation – on the last Sunday in September has been a dramatic annual reminder of the importance of ensuring that every Minnesota firefighter has access to the education, prevention and care needed to handle a medical diagnosis, including the top-three diseases firefighters face: cardiac issues, emotional trauma and cancer.
Since 1881, 241 Minnesota firefighters have died in the line of duty. Their names have been inscribed on columns throughout the nationally recognized memorial, located on the south side of the Capitol grounds.
Learn more about the firefighters who were honored from KSTP's coverage of Sunday's memorial service.