Since Day 1, William Ewald has fully supported MnFIRE and its mission, especially the Hometown Heroes Assistance Program (HHAP).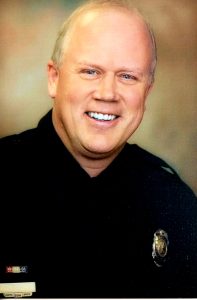 "But I was the absolute last one who thought I would need it because I felt so good," said William, who is a captain for the St. Bonifacius Fire Department.
When William faced health challenges, the 59-year-old reached out to MnFIRE for help through the HHAP not once, but twice.
"I was a bit in denial at first that I needed this resource … because pride can get in the way," he said.
But he is glad he moved his pride to the side to accept the resources from the HHAP, the most comprehensive firefighter well-being legislation that passed through the legislature in 2021. William used two of three components of the HHAP for his health challenges: the MnFIRE Assistance Program (MAP), which targets emotional health and stress unique to the fire service; and the Critical Illness Program, an insurance policy which covers diagnoses of cancer, cardiac or other critical illnesses, and provides a lump-sum cash payment up to $20,000 to assist with expenses.
"It's resources available for us in our time of need after we have helped others in their time of need," William said. "Because sometimes we need the help."
William has also participated in the third component of the HHAP: training, which provides free education to fire service members across the state about health risks facing firefighters.
All HHAP resources are free to all active Minnesota firefighters – volunteer, paid-on-call, part-time and full-time.
Using MAP: A Call for Help
William first reached out for help after a tough medical call involving a 5-year-old girl, who William said reminded him of his granddaughter.
"Going into the fire service, every candidate expects to fight fires, but the fact of the matter is we're 80% medical response and that has a highly emotional response," William said. "The emotional aspect was heavy for me."
So he called the MnFIRE hotline number.
"All of us at St. Boni have the number programed into our phone," William said. "But as the phone rang, I hung up because I was too scared to talk. (The MnFIRE Peer Support program director) called me back in minutes."
William and the peer support director talked through the scenario William had just experienced. After the call, the director texted to reassure William that she and others through MnFIRE, will always answer the call and be there for help.
"That was a meaningful day," William said. "We continue to encounter those tough scenarios, but through MnFIRE I learned how to better manage my stress so it's not so impactful on me and my family. (The MnFIRE Peer Support program director) coached me through how to cope and get through the process."
Using the Critical Illness Program: A Cancer Diagnosis
As a firefighter, William knew his chance of receiving a cancer diagnosis was higher than most people. But it still was a shock to learn in June he has prostate cancer.
"What followed was my strongest support system of the people I met through MnFIRE," William said. "Emails they sent me were overwhelmingly supportive, encouraging and optimistic. They were engaged in the process, to help with resources and guide how MNFIRE could help with a cancer diagnosis."
MnFIRE helped William walk through the process of applying for the Critical Illness program.
"I opened the MnFIRE website and pushed the 'Apply Now' button," William said. "I thought, 'It cannot be this easy.'"
Within five minutes, William had the online paperwork filled out and other paperwork ready for his oncologist to fill out. The process from applying to having the money in his bank account took 10 days.
"It's that simple," William said. "I thought it would take months. This is really good legislation."
The money went to use right away in a variety of ways, including paying the family's maximum out-of-pocket insurance expenses.
"A PET scan alone is $28,000, and I will need three of those," William said. "This (Critical Illness program) gives you the comfort knowing you're already managing cancer. You don't need to focus on resources, and this allows you to focus on recovering without worrying about your copay. It brought unexpected relief we hadn't counted on."
William had surgery the week of Aug. 8 and is working on the recovery process before easing back into work on light duty. He is optimistic for the future, in part due to MnFIRE and the HHAP. For other firefighters hesitant to reach out for help, William shares encouragement.
"Make the call and have that initial courageous conversation," he said. "The support, resources, encouragement and how much they care and stay engaged will be uplifting even in your darkest hours. It's a tremendous and valuable resource we all need to use."
To learn more about accessing these life-changing resources for yourself or a loved one, visit our Hometown Heroes Assistance Program page or call 888-784-6634.