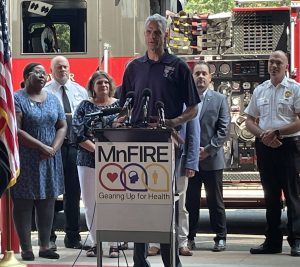 The entire Minnesota fire service mourns the loss of St. Paul Fire Captain Chris Parsons, who passed away on June 15, 2023.
As president of the Minnesota Professional Fire Fighters, principal officer of IAFF Local 21 and a founding board member of MnFIRE, Chris was a fervent champion for firefighter well-being, which will forever be part of his legacy.
He was particularly focused on championing legislation that banned PFAS, cancer-causing chemical fire retardants. With his family's permission, MnFIRE has set up a GoFundMe page to raise money that will go toward PFAS research and its impact on firefighters.
Visit the Chris Parsons Memorial Fund for PFAS Research GoFundMe page.
Chris was a selfless servant and has positively impacted the lives of every single Minnesota firefighter and their families. He will be missed.